With the spotlight on Ghana and the continuous rise in tourism and relocations, investing in Ghana's real estate is worthwhile and the best time to get in to reap maximum value is now. During your free consultation call with me, we will discuss insights and market knowledge I have gathered in over 15 years in Ghana's luxury real estate industry, to guide you into making the right real estate investment, whether it's for personal use or for investment purposes.
Book your free consultation today and get clarity on Real estate in Ghana to make the right investment.
Get Your
Free 30-Minute
Consultation
Consultation is valued at $200
Only 15 slots available
Get Free Consultation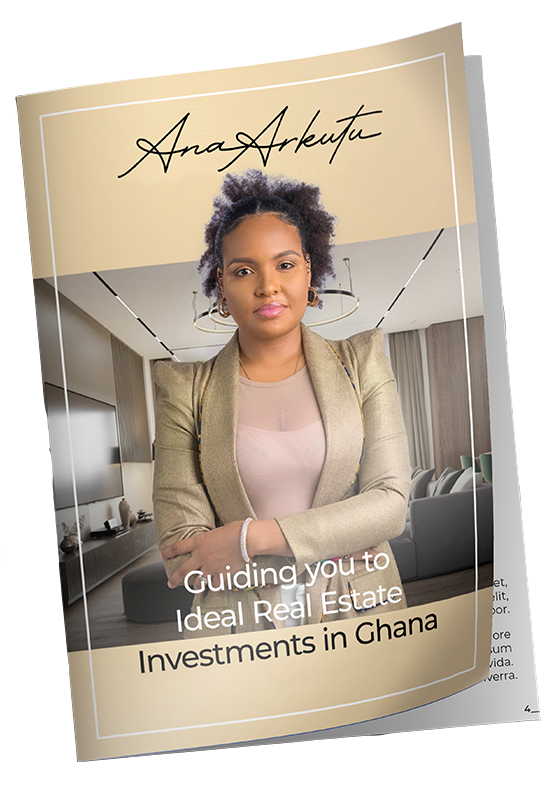 Bonus Guide
Get this bonus guide when you book your free consultation. The guide will give you an overview of the real estate industry in Ghana and contains valuable information such as the best locations to invest in Ghana, information on property tax, foreigners buying property in Ghana and much more, it will be emailed directly to you as a bonus when you book your free consultation.
Get Free Consultation
Clarity into Ghana's real estate market
I will demystify Ghana's real estate market and put your mind at ease by answering any questions you may have and provide new/(additional) information to you.
Understanding of the real estate purchase process in Ghana; with step by step detail.
Discuss locations that best suit your property goals
An assessment of your budget per your investment goals and purposes.
Tips on undertaking due diligence on sellers, developers and real estate agents.
Mortgage options and whether its ideal for you.
Mortgage qualifications whether you are a Ghanaian living outside Ghana, Foreigner, Resident or Ghanaian
I guarantee that after our call you will have more clarity on Ghana's real estate market and will be better informed in making a property purchase decision, eliminating concerns you may have.
Here is what my clients have written about my service
"Excellent service! Professional thoughtful and overall very helpful"

M.G - Investor
"Oh my, I don't even know where to begin. Ana is the most beautiful, pleasant, patient, advising spirit I have ever met. She was so patient with my business partner and I. This was my first time in Ghana and because of Ana, I fell in love with the country. I purchased my home with her assistance. Ana is extremely thorough, she will ensure that your process is seamless and all requirements are met. I highly recommend using her expertise in your endeavours. It was such a pleasure doing business with her. She has a lifelong partnership with me for sure."

T.D - Investor
"Ana's service was impeccable. She educated me and made the process go very smooth. Ana really cares about her clients. She asked all the tough questions that I didn't necessarily think of."

N.O - Investor
"My relationship with Ana started in 2014 when I contracted her to rent out my property at Tema Community 6. I was very satisfied with the speed and professionalism exhibited by Ana in carrying out the assignment to the extent that I introduced other clients to her."

S.I - LandLord
Get your free consultation & download guide
Copyright © 2022 Ana Arkutu