This property is set to become Ghana's leading 5 Star Beach Resort with direct access to the ocean, and with future plans of developing the first-ever Marina. The project is located in the town of Nyanyanor, in between Kokrobite and White sands, perfectly positioned in a calm bay with a lagoon to the back.
The 46-unit project made up of 3 suites, 7 oceanfront villas, and 36 one-bedroom apartments will put Ghana on the waterfront destination map. The vision, and design, not to mention the attractive returns make this project unique in many ways.
Upon arrival, guests will be greeted by spectacular views of the luxurious lobby, central infinity pool, and ocean through the 14-foot windows. Above the lobby are the conference rooms, ideal for corporate events with a capacity for 150 people, as well as the fitness centre and spa made up of 4 cabanas for guests to enjoy their open-air massages.
In addition, the property houses a restaurant on two levels; an open terrace on the 1st floor and an enclosed space on the ground floor with foldable windows.
The central infinity pool overlooking the oceanfront is the focal point of the project with both Garden Level and Pool View rooms facing the swimming pool. The presidential and royal suites, on the second floor, also come with spectacular infinity pools overlooking the ocean.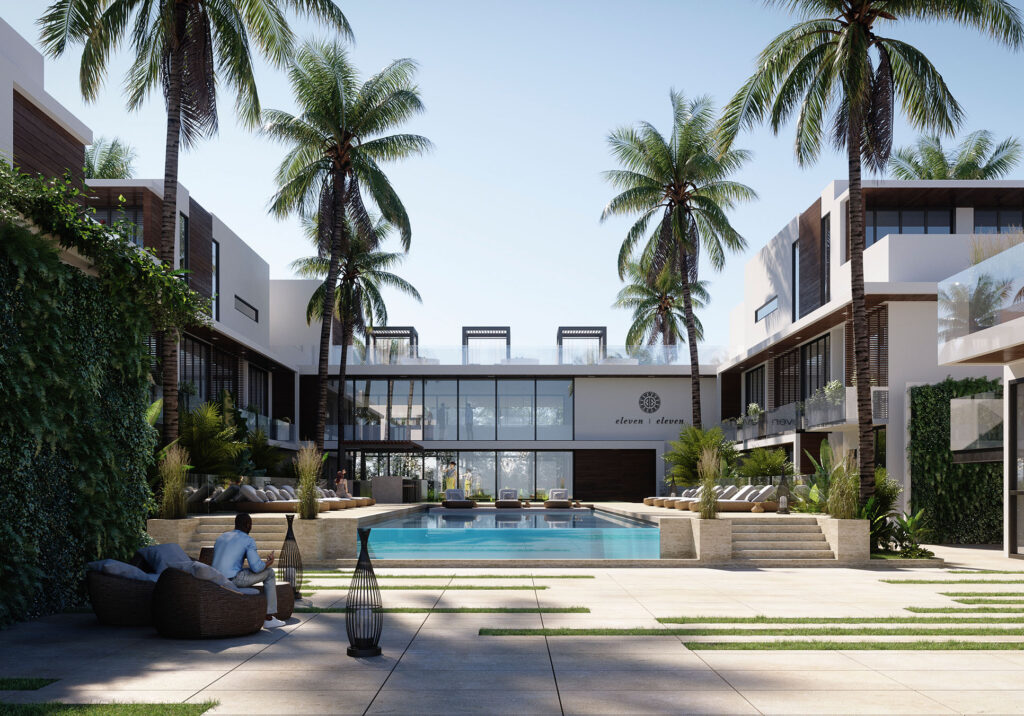 Features
Immersion into nature
Unobstructed views of the ocean
Wellness lifestyle – mind, body, spirit
Spas, organized fitness & yoga
Beach & water activities
Community & cultural gathering
Service & Convenience
Restaurant & rooftop terrace

Outdoor swimming pool & jacuzzi

Private garden

Room service & Babysitting (upon request)

Multi-lingual staff

24-hour concierge

Business Center and ATM/Bank office

100 parking spaces with valet service.
The business model of the project is very unique; buy a unit as you would in an apartment complex and a company will manage the entire facility as a resort, including room rentals on your behalf.
Proceeds from room rentals go to room owners after a 20% service fee on rent revenue to maintain & operate the facility by a professional 3rd party consultant. Projections show that there is a likelihood for investors to enjoy 30%+ returns, making their money back in a period of 3 years.
This resort residence comes complete with all the amenities you could ever want or need, from a central pool and spa to a fully-equipped kitchen and a beautiful outdoor living space. Whether you're looking for a place to call home or a vacation rental, this oceanfront property in Ghana is sure to exceed your expectations.