The real estate industry in Ghana is booming, and buying property in Ghana has become an attractive option for both locals and foreigners. in fact, buying land in Ghana as a foreigner or as a local is a good investment! Ghana's real estate market makes it a good place to invest if you want to diversify your portfolio. Land is always a beneficial investment since you can make money rapidly from it, and land in Ghana is no exception. When navigating the property purchase process in Ghana, a real estate agent or broker like myself are a useful resource because of their extensive understanding of Ghana's real estate market, local economy, and shifting real estate trends.
READ ALSO: What to look out for when buying an apartment in Accra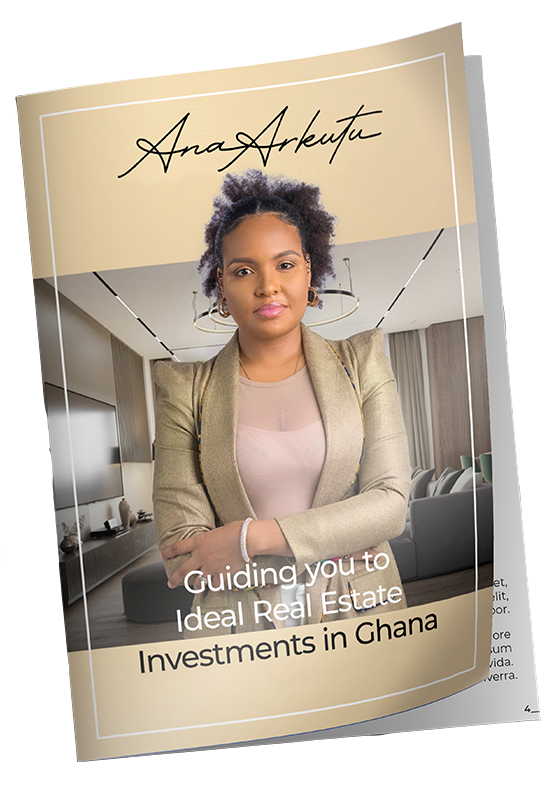 Why buy property in Ghana with a real estate agent
Finding your best property can be made easier with the help of a real estate agent. Engaging the services of real estate agents in property transactions can yield benefits such as securing favourable deals, circumventing hurdles, simplifying paperwork, and minimizing stress.
In Ghana, there is a wide selection of luxury homes available for sale, and fortunately, the services of real estate agents can simplify the process for you. Buying property in Ghana is a great way to invest your money and enjoy the benefits of owning a property in a beautiful country. There are several advantages of buying property in Ghana with a real estate agent: 
1. Expertise
Real estate agents have the knowledge, experience, and resources to help you find the right property, navigate the legal and financial aspects of the purchase, and negotiate the best deal. Thanks to their extensive knowledge of the industry, real estate professionals can help you get the right property at the exact location you so desire.
2. Access to a wide range of properties
You can find the ideal home to meet your needs and budget by working with a real estate agent because they have access to a wide variety of properties, including those that are not publicly available. A good real estate agent can help you find the perfect home or investment property, and a great real estate agent is familiar with the area and can help you narrow down your search. They can also give you useful details on the neighbourhood's schools, facilities, and economy.
3. Market knowledge
Another advantage of using a real estate agent in Ghana is that they could be well-versed in the housing market. Ghana's real estate market is well-known to real estate brokers, so they can offer useful information on home valuations, market trends, and the best areas to secure a property. They are able to give you insightful information and recommendations about properties that are now up for sale as well as about upcoming developments in the neighbourhood. This will assist you in selecting the ideal property for your needs.
4. Guidance through the buying process
Purchasing property can be a difficult process, but real estate agents can help you every step of the way—from looking for a home to negotiating a purchase agreement to finalizing the deal. Real estate agents in Ghana can also offer counsel and direction during the entire purchasing process, which is another benefit. 
Real estate brokers may support purchasers in making good decisions by helping with the paperwork and negotiating the best price. Also, they can offer guidance on the state of Ghana's estate market and current trends, which can assist buyers in making an educated choice on the purchase of a home in Ghana.
READ ALSO: Buying Real Estate In Cantonments
5. Professional connections
Strong contacts are essential for a successful real estate career. The really good ones have professional connections, such as attorneys, mortgage brokers, and home inspectors, who can assist with the purchase process. Because professional real estate agents have good connections, they can dive deep to find you several luxury homes for sale in Ghana that you may otherwise not find without their expertise. 
6. Support in negotiations
In addition to assisting you with negotiating the best price and terms for the home, real estate agents may guide you through any difficulty that may come up throughout the purchasing process. When it comes to negotiating the best price for your purchase, a real estate agent may be a huge benefit.
 They can help you save money and make the process simpler because they have the skills and knowledge to negotiate the best price for purchasing real estate in Ghana. A real estate agent may also assist you in comprehending the legal ramifications of purchasing property in Ghana as well as the taxes, fees, and other expenses related to the transaction.
7. Help with legal and regulatory compliance
Using a real estate agent to navigate Ghana's real estate market is essential as real estate agents can assist in making sure that all Paperwork and documentation are in place because they are knowledgeable about the statutory and regulatory requirements for purchasing real estate in Ghana. 
If you are considering buying land in Ghana as a foreigner, you definitely need to look into the legal implications that come with the land and get a real estate agent to help you navigate this procedure. Real estate agents are familiar with the laws and rules that apply to buying property in Ghana. They can assist with the paperwork, making sure that everything is in order and that the acquisition is made in compliance with local regulations. 
READ ALSO: Featured Properties & Listings
How can I buy property in Ghana?
Investing in real estate in Ghana is one of the most exciting and profitable decisions one can make. Ghana is a desirable location for real estate investors due to its thriving economy and quickly expanding population. Here are a few things to take into account before buying land in Ghana as a foreigner or a local, regardless of whether you're trying to buy a house, an office, or an investment property: 
The first thing you should do is think about your budget and determine how much you can actually afford to spend on a house.

After deciding on the type and location of the property, you must locate a reputable

real estate

agent

or lawyer to help you purchase a property in Ghana and make an offer; basically,

assisting you in the purchasing process.  

 After your offer is accepted, you must request documentation pertaining to the property being sold, such as title needs or land registration documents where relevant, in case of any official search to be conducted by the Lands Commission of Ghana.

When it comes to Ghana's real estate market, the type of property you may need may demand you to pay a registration fee or other taxes, and the seller may need to provide a title deed or other documents before the transaction can be completed. 
READ ALSO: The Art of Buying Off Plan
Can a non-citizen own property or buy a house in Ghana?
Yes, a non-citizen may purchase real estate or a home in Ghana. Ghana's real estate market has a large supply of luxury properties for sale due to its robust economy and vibrant real estate market.
A fantastic approach to growing your money and taking advantage of the advantages of property ownership in a stunning nation is to purchase real estate in Ghana. This process might be considerably simpler with a real estate agent's assistance.
READ ALSO: Ghana A Real Estate Investment Hotspot
Overall, it is clear that there are many advantages to buying property in Ghana with a real estate agent. As such, buying property in Ghana with a real estate agent is highly recommended. It's important to note that it's always a good idea to conduct thorough research to check the credibility of the real estate agent before working with them to ensure that you are working with a professional and trustworthy agent who can help you find the right property and navigate the buying process. Interested in finding luxury homes for sale in Ghana? Make a reservation with me, Ana Arkutu,  today!